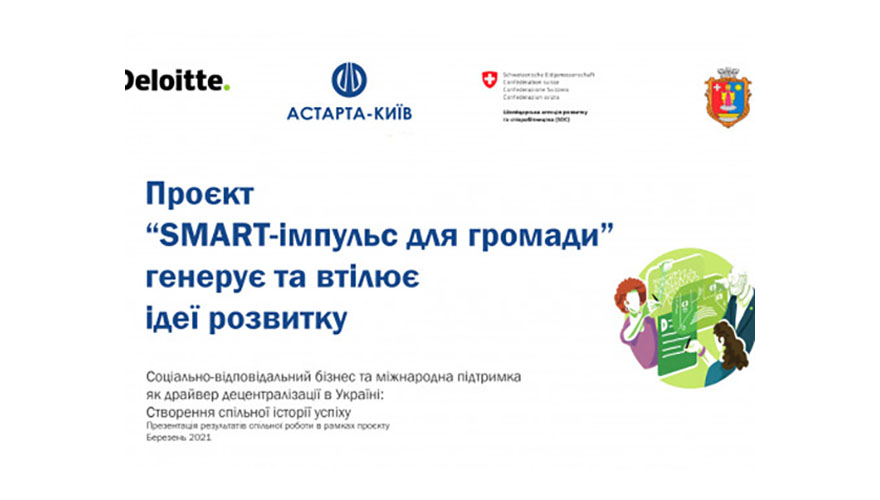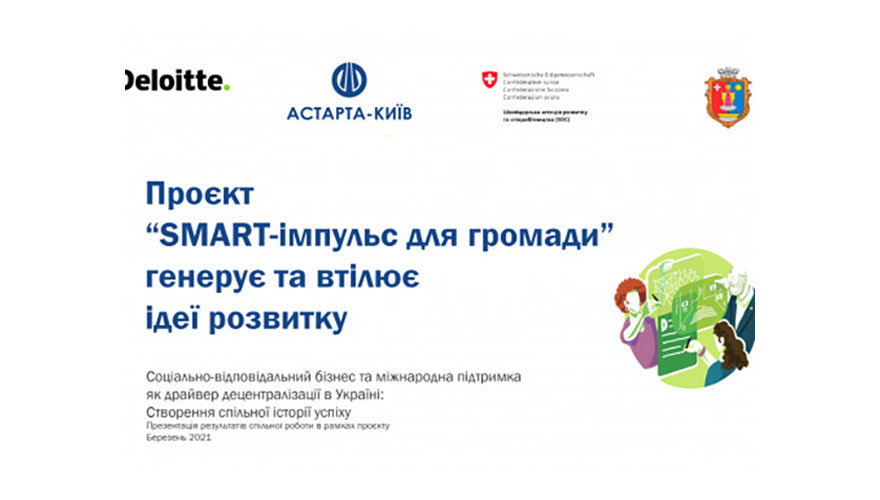 The partnership is a superpower of modern times. Even having the coolest idea, it is difficult to implement it alone.
The SMART-Impulse for the Community project united a team of like-minded people. At the end of 2019, the four partners came together and shaped their SMART-course to improve the socio-economic  situation in the Volochysk community in the Khmelnytsky region.
The SMART-Impulse for the Community project is jointly implemented by the four partners:
Volochysk Amalgamated Territorial Community
Agri-industrial holding Astarta-Kyiv
Deloitte Ukraine
Embassy of Switzerland in Ukraine
Which goals were implemented?
The results of the first and second stages of the project were presented on March 24. Thanks to persistent work, research, and discussions, we managed to realize the goals of the SMART-impulse for the Volochysk community.
Despite quarantine and remote work, the partners implemented the next steps:
• complex diagnostics of the community. The diagnostics made it possible to formulate scenarios for further development, key challenges, opportunities, and prospects. The team prepared 40 recommendations for change based on the results of the diagnostics.
• Community Hackathon. The Hackathon helped to learn the needs of the population, the aspirations of the inhabitants, and their vision of the growth vector. 24 insights and 60 ideas were formed.
What are the strivings of the residents of the Volochysk community?
It turns out that the strivings and opinions of the people who took part in the Community Hackathon are almost identical because they are concerned about the same issues and challenges.
These are collective images of all the residents created on the basis of in-depth interviews: Ivan, 50 years old, the village head. Olena, 55 years old, and 42-year-old entrepreneur Petro. What are the strivings of these people?
They want new jobs and better roads in rural areas. They want young people and skilled workers do not to leave the community. And they want a clear understanding of how their community will develop in the coming years.
The following steps – we implement SMART-ideas:
Now the project is moving forward, ambitious key tasks have been identified for implementation in 2021: formulation of a Strategy for the development and creation of a niche enterprise / cluster in the Volochysk community.
And then the words with which the official website of the Volochysk amalgamated territorial community greets its readers will sound even more convincing: "The Volochysk community is a land with a history to be proud of, with a future in which you want to live and raise children".