---
The Globynsky processing plant is a modern high-tech enterprise. Its products meet international quality standards.
The enterprise specialises in soybeans processing and wholesale trade of further processed products – high-protein granulated meal, unrefined hydrated oil, and granulated shell.
The projected annual processing capacity of the plant is 230kt.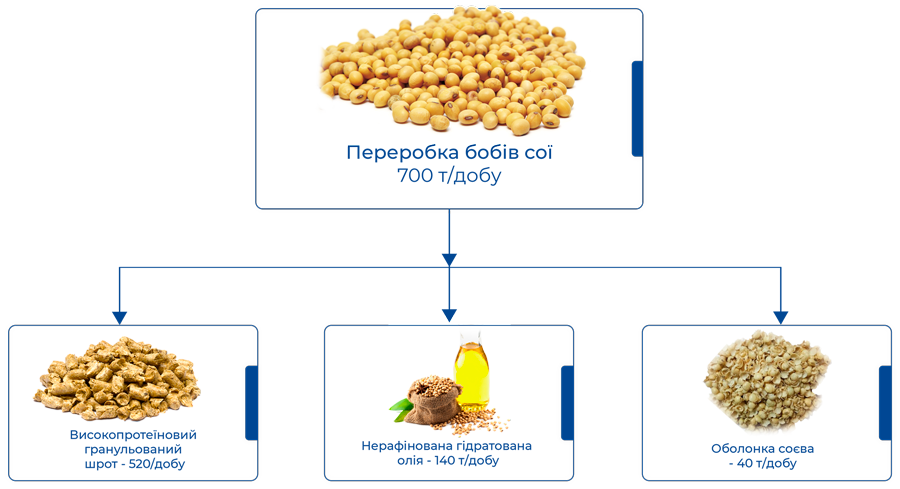 The enterprise is equipped with machinery from the world's leading manufacturers "Bühler" (Switzerland), "GEA" (Germany), "Alfa Laval" (Switzerland), "CPM" (Netherlands), "Siemens" (Germany), "KSB" (Germany) and others. The plant includes storage facilities for finished products and a 42kt capacity silo, engineering, automobile and railway communication. In addition, the enterprise provides powerful water and air purification systems.
The processing of soybeans into finished products involves the implementation of a technological operations complex using the direct extraction method.
In the production process, systematic control of qualitative, quantitative and safety indicators of inputs, auxiliary materials, and finished products is carried out per international standards ISO 9001, ISO 22000, and GMP+B1. An environmental management system and an energy management system according to ISO 14001 and ISO 50001 standards have been integrated into production.
The concept of lean production using the "5S" toolkit has been implemented.