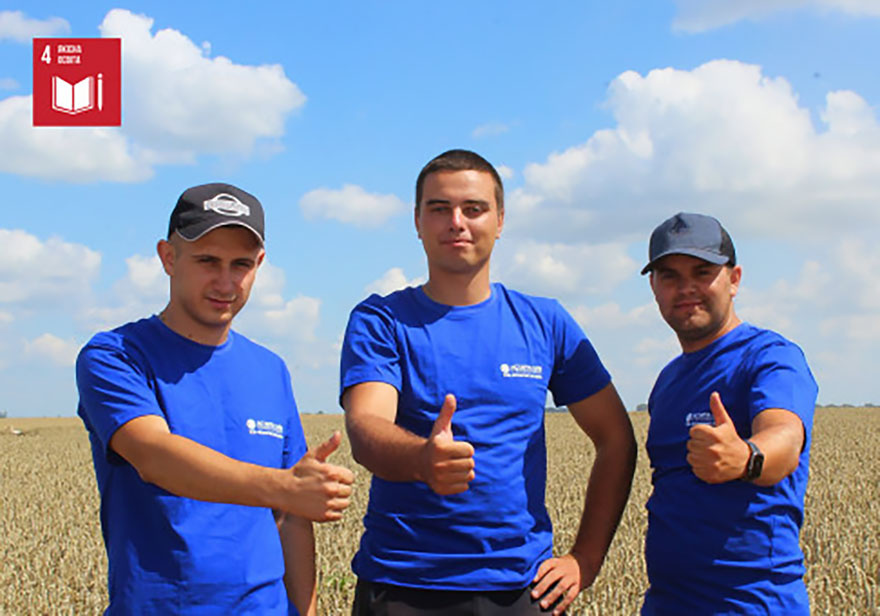 The Dual Education Partnership Project was implemented by ASTARTA together with the European Bank for Reconstruction and Development, E&Y Ukraine and Kharkiv National Agrarian University named after V.V. Dokuchaev.
Our goal was to help young professionals to get a quality higher education with a strong practical base in the production facilities of ASTARTA and to reduce the gap between theory in universities and practice in real production conditions.
This is a win-win as young professionals have a favourite job and there is no need to retrain them, the company has its motivated employees, and the country – its citizens who do not emigrate.
According to the results of the project:
– updated the university curriculum of the bachelor's degree in "Agronomy";
– the term of the internship in the employer's fields was increased from 5 to 14 weeks. As part of the project, ASTARTA invites agronomists, veterinarians, zootechnicians and engineers from all agricultural universities in Ukraine for internships. Among those who train with us, many remain to work in ASTARTA.
– 35 professors and teachers of KhNAU participated in the training "Implementation of dual learning elements in the educational process", found out the best practices of dual education in Germany, Austria and Kazakhstan, mentoring and the role of the employer in dual education, current trends and practical aspects of agribusiness. Ukraine;
– 250+ users listened to a course of video lectures "Improving the professional skills of agronomists. National and international experience ", co-authored by Michael Basten, a senior agronomist at Koch Agronomic Services LLC (Germany) and a faculty member at Kharkiv National University.
Now our partners from E&Y Ukraine are preparing educational videos from the course "Agronomy" and plan to conduct an information campaign on the results of the project. ASTARTA provides assistance to upgrade the material and technical base of the university.