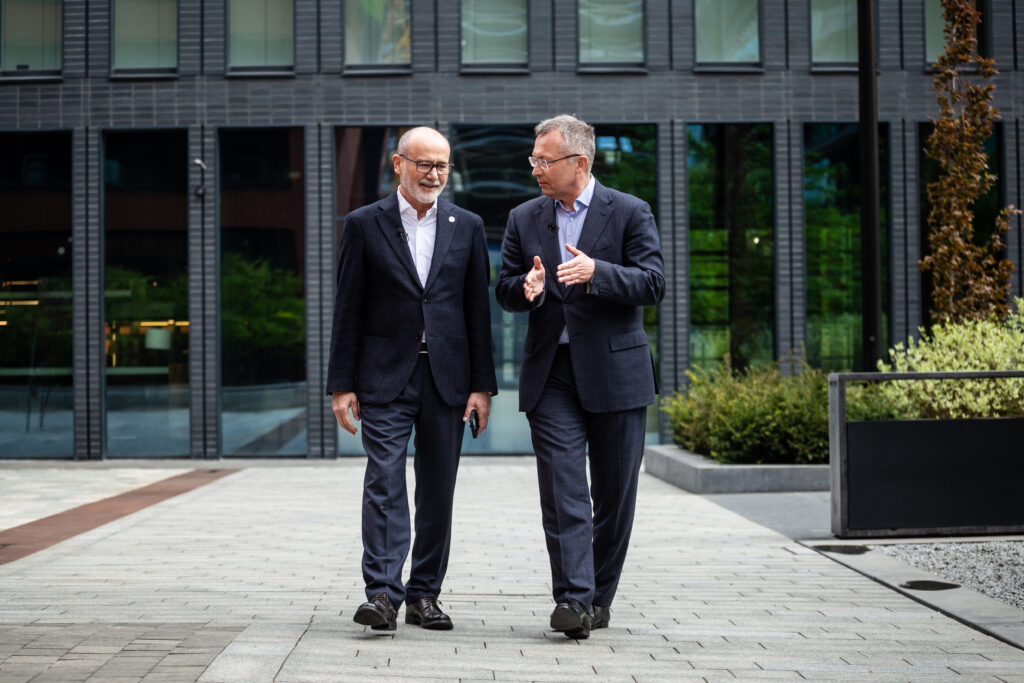 According to Viktor Ivanchyk, founder and CEO of Astarta, and Oleksandr Pysaruk, CEO of Raiffeisen Bank, small and medium-sized Ukrainian businesses will become the backbone of the country's post-war reconstruction. And they have good reason to believe so: almost a year ago, they launched the joint project "Brave" to help regional entrepreneurs develop their businesses. The project proved successful: during the first wave alone, we received more than 200 applications and funded 25 projects, which created more than 200 new jobs. The second wave of the project has now started. Forbes Ukraine discussed the main conclusions and lessons learned from the project with its initiators.
This is a shortened text version of the video conversation between Astarta CEO Viktor Ivanchyk and Raiffeisen Bank CEO Oleksandr Pysaruk. Watch the full version in the video.
Viktor Ivanchyk: "In March 2022 we launched the Common Help UA humanitarian project primarily to provide food to Ukrainians affected by russian aggression. More than 1,000 of our employees became volunteers. In the summer, we organised the production of canned meat, vegetables and dairy products at Astarta. We thought the war would end in a month or two or three, and we would return to our core business.
However, when we realised that we had to count on longer and larger-scale work, we started thinking about how to involve the temporarily displaced people. That's when we came up with the idea to finance small business projects. We approached the bank with this idea and offered to develop it together. I am very grateful that they responded as quickly as possible.
As soon as we announced the start of the project, we received more than 200 applications from entrepreneurs in 10 days. It is awe-inspiring that so many people were ready to start their own business. We managed to help 25 entrepreneurs. And the most challenging part was to choose. It was the biggest challenge, but we preferred those who were willing to take risks and understood what they were doing and why. It resulted in quite successful projects that created about two hundred jobs.
Everything is necessary to people during war: material support, but even more so moral support. While implementing the Brave project, we communicated, trained these people and supported their projects for six months. During this time, we see how these entrepreneurs develop their understanding of business, values, and goals. We see their businesses grow and become more successful. Such businesses are the future. To develop people's initiative, to give them a starting impetus, professional assistance in drawing up business plans, and, perhaps most importantly, to enter the markets – not only local but also the Ukrainian and foreign markets. And in this sense, professional assistance from the bank and more experienced companies like Astarta is significant for these entrepreneurs.
The number of people willing to start their own businesses is growing. Together, we can help these entrepreneurs, not only in the food production sector. We can expand these types of business activities. People can sew, weave, paint – it can be anything. These small entrepreneurs will be the first grass to grow on the ground when we win- and we will win soon.
It will be much easier for us to bring Ukrainians back from abroad on this basis of already-developed entrepreneurship. Because it is a big problem to get back Ukrainians who have left, found work, and sent their children to local schools. We need people who have seen the conditions of life and work in the West, who can bring these skills here and add them to what we will train them here.
We need to lay this foundation without leaving, working here for all these months, giving them that runway to make these businesses much more successful. And to organise a robust ecosystem of responsible Ukrainian enterprises operating on the principles of sustainable development to promote our Ukrainian products to foreign markets. I am confident that these products will be in demand. And based on this, build a new Ukrainian society.
Source: Forbes Ukraine, photo by Artem Galkyn