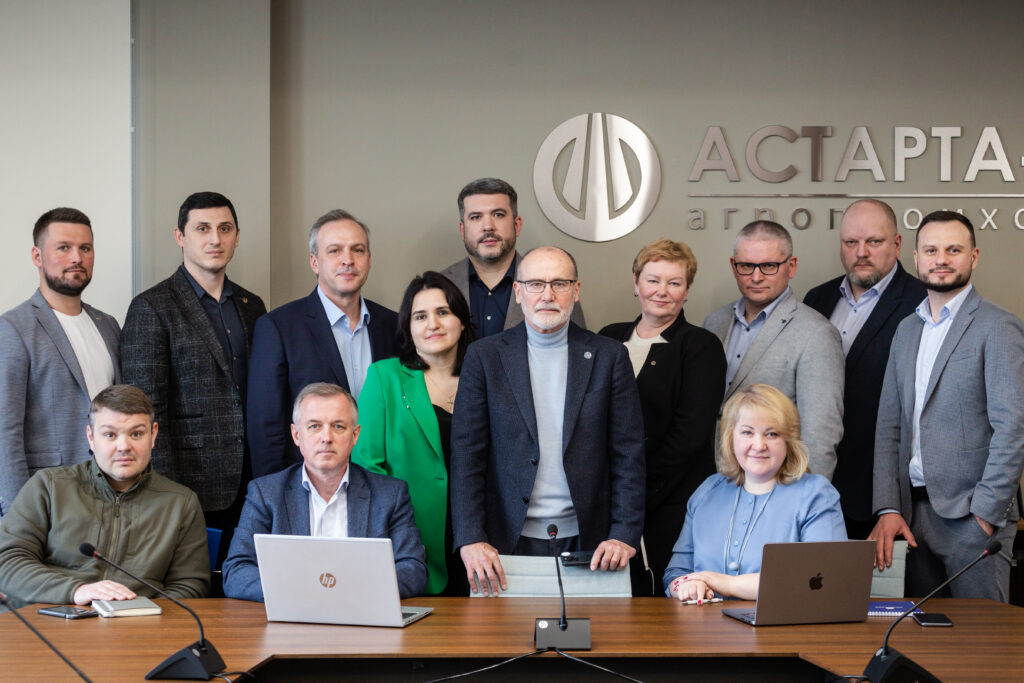 Four Astarta's top managers on their out-of-the-box approach to management, leadership, and team interaction
Since the beginning of the full-scale war, all aspects of life have changed. Values, meanings and interaction models are being transformed, and the corporate dimension is no exception. However, people are the critical element in resolving crisis issues.
Astarta is one of those companies where the management system and team interaction are based on the principle of "peer-to-peer": each employee can show their best abilities, change roles and participate in management decisions. In turn, managers are multifunctional and flexible.
This strategy has formed a sustainable ecosystem that helps the team to work without losing efficiency, even in a full-scale war. Four of Astarta's top executives, who rose through the company ranks, tell us how this works in practice.
Svitlana Mozhova, HR Director
Astarta is always about changes, implementing the world's best practices, innovations, improvements and partnerships. And who else but the company's employees are its key and most reliable partners? That is why we focus all our efforts on the team – uniting, training and motivating them.
Many horizontal and vertical staff movements existed during the war between different functions. We have already reached our target of filling 80% of managerial vacancies with internal talent.
In Astarta's culture, people are not a resource but a key asset with knowledge, skills, talents and value that contribute to the business to achieve common goals. We go beyond and are not limited to functional responsibilities. Finding, developing, and training is the mission of every manager: to see the potential in their people, to be able to motivate them, to set their example and to create conditions for development in the company.
Today, social initiatives are of great importance for employee engagement. However, at Astarta, the social component has been part of our philosophy since the beginning. Over the past year, the team has implemented numerous volunteer initiatives, such as the Common Help UA project, which assisted more than 812,000 evacuees and residents of hotspots. More than one thousand Astarta employees volunteer here.
Together, we have created a network of social services for evacuees, IDPs, the military and vulnerable groups, and each of us feels involved in an important cause.
Vadym Skrypnyk, Director of Agricultural Production
Astarta is a company that operates in seven regions. Our business is diversified and has enterprises of different sizes. By implementing the assessment, we see that someone could have already "grown out" of the position they hold. At the same time, another company is in need of such a specialist.
First, we will offer this position to an Astarte employee who knows the company well, understands the business areas and is ready to grow. We don't waste time and efficiency of existing processes by attracting people from outside. We motivate our human resources by practically demonstrating: grow if you want to.
We systematically improve the level of professional knowledge of our employees and develop them into effective managers. Last year alone, 80 managerial vacancies were filled by the internal reserve. For example, Roman Pavlyk, an ordinary agronomist, became the chief agronomist of the entire holding; Igor Litvinov, an operations director, became the CEO of the agricultural company; Natalia Gomon, who was the CFO, first headed a smaller enterprise and later became one of the largest in the company. And there are similar promotions in other business areas, which means we are on the right track.
Vyacheslav Chuk, Commercial Director
We have created cross-functional teams to quickly adapt to new conditions, act effectively, and make decisions. The goal is to unite the group and find innovative ideas and solutions to restore the continuity of the holding's commercial and logistics processes.
The teams include employees with different experiences and specialities. Any idea, even the most ridiculous one, deserved attention and elaboration. And it inspired people and helped them do things they would never have done if they had been sitting around waiting for someone to give them instructions. They developed healthy courage and a desire to take responsibility. This mechanism helped to unite and retain the team.
The time and challenges we are working in have raised the responsibility of people at Astarta to a level where there is no need to look for additional motivation. For them, it is not only a responsibility to the company but also a conscious responsibility to their family, society, and country.
Natalia Bohacheva, CEO of AgriChain IT company
Human capital development is only possible with new skills and abilities to work in modern IT systems. That is why we are creating a digital culture in agriculture and shaping innovative personalities. Over the past five years, Astarta has made a quantum leap in this direction by digitalising its business.
Previously, the priority tool of most regional agronomists, engineers or land managers was a notebook at best. Today, while working in the fields, all specialists have remote workplaces in mobile applications without internet access. These tools allow you to manage all operational processes on your smartphone.
Agricultural specialists now have all the tools at their fingertips – aggregated weather, satellite and telemetry data in the form of analytics, reports, and alerts about critical events. This way, they can influence processes more effectively, knowing that the whole chain of operations and the overall result depends on these decisions.
It is not easy to implement such solutions, but when people start using IT technologies, they move to a completely different level of professionalism. Having digitised all our process chains, we can confidently say that our people are ready to work with AI. Many of our specialists, trained to work with a range of digital technologies, including UAVs, have gone on to work in aerial reconnaissance or become drone operators in the Armed Forces. It demonstrates our staff's high innovation and progress, and we plan to raise the bar.
The source: Forbes Ukraine, picture Artem Galkyn