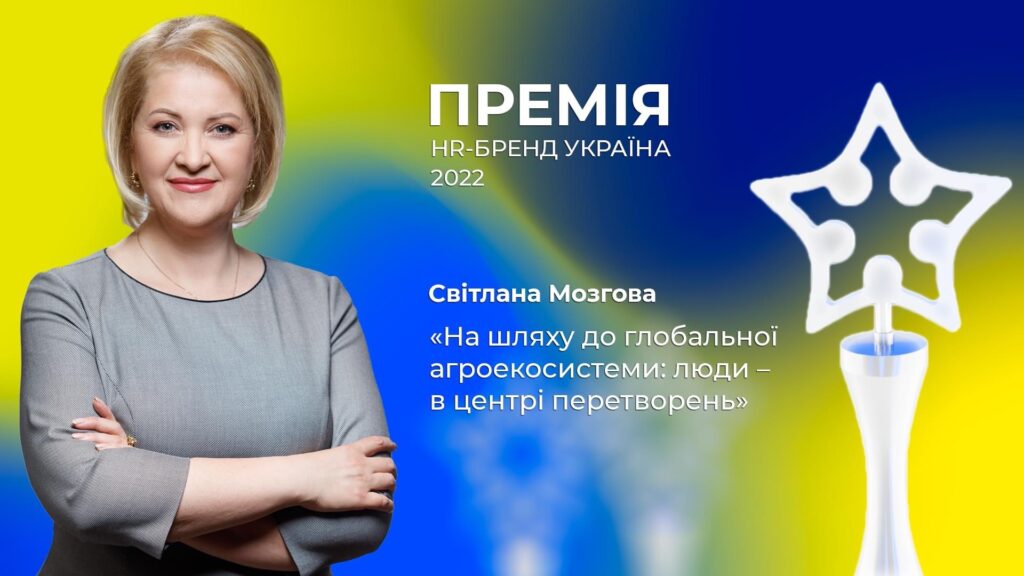 Astarta won the All-Ukrainian HR-Brand Award 2022 in the Partners' Choice nomination with HR strategy case "Towards a global agricultural ecosystem: people are at the centre of transformation".
The key topics of this year's competition were human-centricity in talent management, transformation of the HR function in the new reality, supporting the resilience and productivity of teams, transformation of corporate culture and how the Company's cultural code helps to survive in war; the use of digital technologies and automation of HR processes, new approaches to online training and employee development, and attracting talented young people. During the month, 39 leading Ukrainian companies presented 50 cases.
Svitlana Mozgova, the Director of the HR, Corporate Partnership and Communications Department, presented Astarta:
– In 2020, the Company updated its business strategy to be based on the concept of an agro-industrial business ecosystem of Astarta. Our experience of working in various crises made us realise that a business with a management system based only on goals cannot be sustainable, even if it has close ties with stakeholders. There must be a unifying story and shared values for the team. And, of course, when we approached designing our HR strategy, which is part of the Company's overall strategy, we put the principles of the ecosystem and set of values at its core.
The project was implemented in four stages: preparation, generation of ideas, creation of HR strategy and its implementation, the latter still ongoing.
– HR paves the way for the effective implementation of the Company's overall business strategy . For us, this is a culture of openness, innovation and efficiency. Key components of Astarta's HR strategy are business continuity and crisis management, sustainable development and social responsibility, personal and professional development of employees, performance management, operational improvement and business innovation, employer brand, operating system upgrade, and automation. And, of course, changes and adaptation under martial law, such as the physical safety of employees, material and psychological support, including for those drafted into the Army and their families, as well as humanitarian assistance to Ukrainians affected by military hostilities and comprehensive support of the Armed Forces of Ukraine, – says the HR Director of the agro-industrial holding.
– HR's role within Astarta's business is changing by becoming a truly strategic partner to its employees, and this inspires all our colleagues. They clearly understand how they influence the outcome and become agents of change, growing a circle of supporters to bring and implement these changes – summed up Svitlana Mozgova.