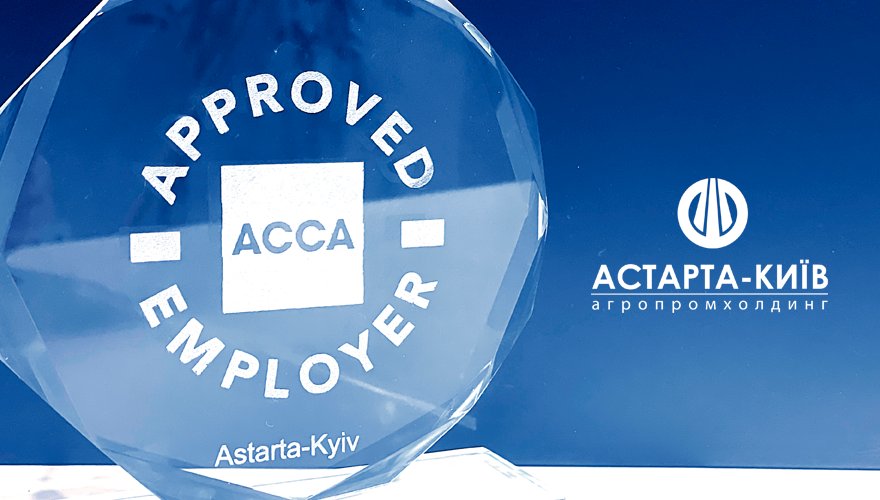 ASTARTA-KYIV was awarded a status of an ACCA (the "Association of Chartered Certified Accountants") Approved Employer.
ACCA is one of the largest international professional organisations in the fields of accounting, finance, management and auditing. It unites 536kt students and 225kt members in 178 countries, including Ukraine.
In Ukraine, 54 companies from various industries have the status of an ACCA approved employer, but ASTARTA-KYIV is the only one among agricultural enterprises.
The status of an approved employer enables the Company to recruit and retain the best finance and accounting professionals, to give its employees access to educational programmes, and to take advantage of best practices and experience among professionals.
Two ACCA members are already working in ASTARTA-KYIV, another three are its students.
Tetiana Afenieva, Head of Financing Reporting, ASTARTA-KYIV:
-The status of an approved employer means that the international professional community recognised the ASTARTA-KYIV's high-quality training and development system for finance and accounting professionals and its compliance with the best international standards. In addition, the association focuses on professional values, ethics and governance. We also pay attention to these issues as ASTARTA is a European public company, and the preparation of high-quality financial statements according to international standards plays a pivotal role in communication with our investors, financial institutions and other stakeholders.