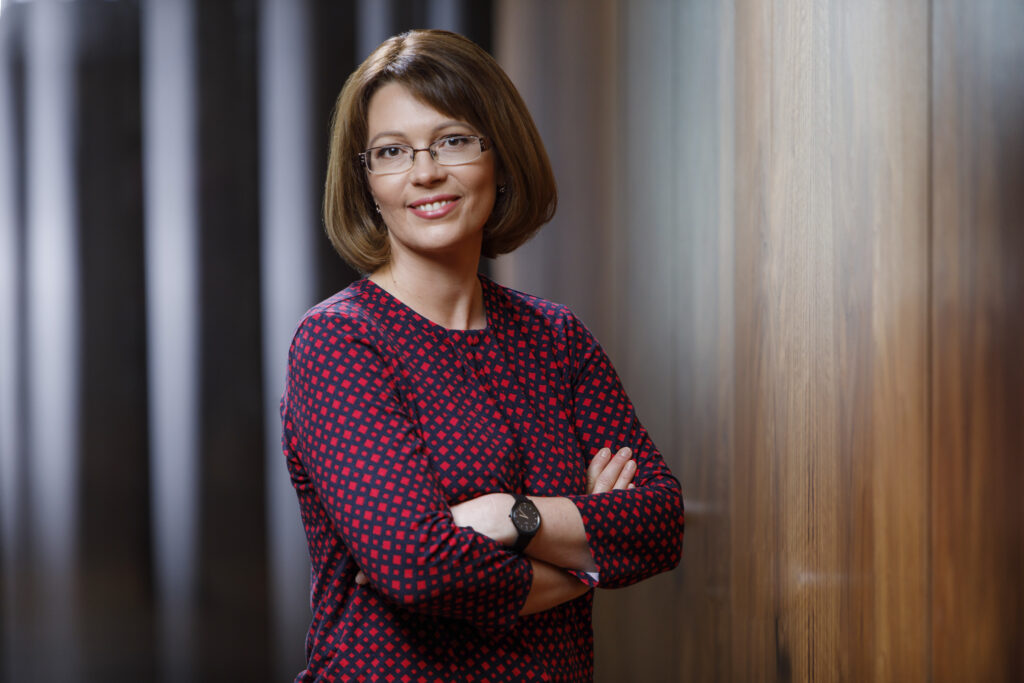 Yulia Bereshchenko, Director of Sustainable Business Development and Investor Relations at Astarta, in an interview for Ekonomichna Pravda, talks about the importance of the sustainable development trend for business and its impact on human life.
Yulia has more than 20 years of experience in the financial sector and has been familiar with Astarta's operations for 18 years. In 2005-2006, she helped to prepare the company for a initial public offering (IPO) on the Warsaw Stock Exchange while at ING Bank. Four years ago Yulia joined Astarta's team as the Director of Sustainable Business Development and Investor Relations.
Currently, Yulia is working on implementing sustainable development programmes in energy efficiency, environmental protection, social issues and corporate governance. She believes that the relevance of these topics has not just remained strong but raised during the war. Therefore, Astarta's task is to find new opportunities for development in the current environment, considering sustainability trends and making the business appealing to all the company's stakeholders.
– What is sustainable business development, and why do companies need it?
Sustainable development in business is a company's strategy and actions aimed at reducing its negative impact on the environment while increasing its positive effects on the development of society.
International standards exist to assess how a company influences the environment and its stakeholders and the feedback process – how the environment and stakeholders affect the company's business.
One of them is the Global Reporting Initiative (GRI), which analyses companies' business practices based on environmental, social and governance (ESG) indicators. This business assessment system is based on the concept of double materiality. It means that a company must report on how sustainability issues affect its business ("from the outside in") and how its activities affect society and the environment ("from the inside out").
This concept emerged from the realisation that business cannot function in isolation from the environment and society. Therefore, companies, while considering their interests, must also consider how their actions affect the resources and people they depend on to function, thereby helping each company gain a complete picture of the organisation, its activities and its role in the broader context.
– Is it a must for all companies?
Although this system is relatively recent, several initially voluntary standards are now gradually becoming mandatory in Europe and other regions. In particular, from 2024, sustainability reporting will become mandatory for even more European companies. Thus, even relatively small European companies must consider their environmental and social impact.
Astarta is a public company, so we decided to commit to GRI reporting before it became a trend in Ukraine or mandatory in Europe. Therefore, reporting, which will be enforced for European companies next year, is already familiar. It is nothing new for us. But we welcome that other Ukrainian companies will follow suit, especially those owned by businesses registered in the EU.
We expect this topic to become relevant for many companies in Ukraine. For example, if you take out a loan from a Ukrainian bank that is part of a European or international financial group, you must prepare a sustainability report. If you are a supplier to a global business you will also be assessed against these criteria.
– You mentioned that sustainability reporting is a common practice for Astarta. How long has the company been conducting such assessments?
This practice was introduced long before my appointment. Since 2008, Astarta has been publicly reporting on its sustainability efforts, since 2017 it has been preparing reports according to GRI standards, and since 2021 we have also been disclosing information on greenhouse gas emissions – the Carbon Disclosure Project – under an initiative that brings together 18,000 of the world's largest companies.
There are also dedicated international agencies that compile ESG risk ratings. In 2020, Sustainalytics assessed our risks. And we were recognised among the top 3 agribusinesses globally that were covered by this agency! In June 2022, during the UN Global Compact Leaders Summit in New York, Mr. Viktor Ivanchyk, the CEO and founder of Astarta, was announced the winner in the 2022 SDG Pioneer for Sustainable Business Strategy nomination for his achievements in promoting the Sustainable Development Goals. It is for the first time Ukraine was represented at this international competition. It is an achievement we are very proud of.
Currently, we review our ESG indicators with the same frequency as our financial data, i.e. quarterly. Such practice ensures flexibility in managing the areas which form the basis of the annual sustainability report. Measurement is the first step towards management.
– Does the company adhere to the principles of sustainable development during the war?
During the war, adherence to these principles is the only way to preserve the most valuable asset – people.
– Among all the components – environment, social sphere, governance – which one, in your opinion, has suffered the most over the past year?
In Ukraine, the social component of ESG was the most vulnerable during the war. Millions of people were forced to change their residence, lost their homes and jobs, and many, unfortunately, lost their loved ones. For Astarta, people have always been at the centre of attention, but since February 2022, the company has significantly stepped up its efforts in these matters, and the social sphere has become a priority for us. The activities that the company is currently carrying out in the social sphere aim to save lives and people's health. We are talking about internally displaced persons, the families of our employees who were forced to leave their homes, and those who joined the Ukrainian Armed Forces. We believe that caring for our employees and their families is a natural process, especially in times of war.
In March 2022, together with Mr Viktor and Mrs Iryna Ivanchyk' family charity foundation, "Believe in Yourself", we founded the Common Help UA humanitarian project. More than 1000 employees of our company joined the initiative voluntarily. During the war months more than 30 Ukrainian and international companies and organisations have become partners of the project, including the Embassy of Switzerland in Ukraine, KFW DEG, Vodafone, Ukrainian Refugees UAPT, the Federation of Employers of Ukraine, the Charity Foundation "Dream Country" and many others.
We have focused on three areas: humanitarian aid to Ukrainians affected by the Russian aggression, which has been provided to more than 831,000 people and 500 medical and social institutions; assistance to the Armed Forces of Ukraine and development of small and medium-sized businesses, which, after Ukraine's victory, will become the basis for Ukraine's economic recovery together with large companies.
In addition, last year Astarta started cooperation with the UN World Food Programme and, within a year, became one of its key suppliers of food for humanitarian purposes in Ukraine. In the future, we plan to expand this cooperation to help overcome hunger in the world by attracting other Ukrainian producers, increasing the volume and producing new types of goods for the needs of the UN World Food Programme.
– And what about the environmental component? It is also suffering greatly in the current environment
Paradoxically, the logistical difficulties caused by the war have significantly complicated the financial situation in the agricultural sector but, at the same time, have had a positive impact on environment. The lack of fertilisers, plant protection products and fuel has prompted farmers to adopt more sustainable farming practices. This trend affects not only Ukrainian farmers.
Due to the global gas crisis and the decline in fertiliser production, many agricultural holdings have switched to regenerative farming. Now, farmers do not have access to cheap fertilisers and cannot apply them as usual. To save money, they must ensure that a valuable resource is delivered directly to the plant to achieve the planned yield.
– Let's then discuss the last component – management. What happens to it during the war?
We have a somewhat polarised picture. Where the land was or is under occupation, we will have to work for years to re-establish return these assets into crop rotation.
But where there has been no occupation, we even see improvements by international standards. Everyone feels responsible for keeping the economy running and filling the state budget so that we have the resources to continue the fight. Businesses are motivated not only financially but also morally.
In addition, since the start of the war, Ukraine has been trading more closely with Europe. Previously, as a sugar producer, we could not supply our products to the EU markets due to high tariffs and restrictions. And now that Ukraine has been included in the Free Trade Agreement, we can freely sell our products, except for the actions of certain countries to ban the import of agricultural products from Ukraine. Accordingly, this means entering the most demanding market on product quality and safety standards. Consequently, we have to improve our standards constantly.
AS UKRAINE INTEGRATES INTO THE EUROPEAN ENVIRONMENT, IT WILL HAVE TO TAKE CARE TO REDUCE ITS ENVIRONMENTAL IMPACT
– How can environmental impact be managed?
Every company uses natural resources during its operations, which is no secret. Some have to be paid for, while others are available for free. Let's take fresh water, for example, 70% of which is used by the agricultural sector. So, the use of freshwater is not fully considered in the price paid by the farming sector because we have a "free resource" in the form of rain and natural reservoirs. But even though a resource is conditionally free, it should still be used wisely. That is why it is essential for companies to measure such things and report them publicly and accurately.
So, the next step is professional management. And the result is that the company achieves better financial performance. The fewer resources used per unit of output, the lower the cost.
Let's also look at an area of land use. Ukraine has excellent black soil. But what happens if you use conventional methods of cultivation year after year? Ploughing, a common tillage method for the industry, actually leads to decreased land productivity, soil erosion, and deterioration of soil health.
To preserve valuable chernozem, traditional methods must be replaced by modern approach to land management. The global practices are moving towards conservation farming the basic principles of which is to not plough the land, to not invert soil and to store carbon in the ground. And along with the accumulation of organic carbon, other nutrients and moisture are also accumulated.
– What about these practices at the national level? What steps are needed to improve our environmental impact globally?
The country's priorities may differ slightly during martial law, but as Ukraine integrates into the European environment, it will assume the relevant environmental obligations. Each country may have its way of achieving the goal. And Europe, in turn, can help us through specific financial instruments – for example, by providing funds for projects related to sustainable development.
As for agriculture, whether it will receive such funds will depend on future EU policy. For example, the current European emission trading system covers electricity production and the metallurgical sector, among others. But the agricultural industry is exempt. In New Zealand, where agriculture is highly developed, it is included into the GHG emission trading to encourage the farming sector to decarbonise.
–Does the company influence the spread of sustainable practices among other Ukrainian companies?
We made our first steps in sustainable development by studying the experience of our key clients – global companies such as Nestle, Coca-Cola, and Mondelez – international business practices that focus not only on profitability but also on the impact on society and the environment. They each project their values globally by setting high sustainability standards for local suppliers and standard product specifications. For example, these global companies have announced decarbonisation targets in their climate change mitigation efforts. They can achieve such goals only by decarbonising the entire supply chain, which includes suppliers from other countries such as Ukraine (Scope 3 emissions). By reducing greenhouse gas emissions in Astarta's operations, we are making our business more sustainable and helping our customers achieve their climate goals. Similarly, we promote sustainable business practices among our local suppliers to jointly develop environmentally and socially responsible businesses for the benefit of the Ukrainian society, economy and environment.
– Experts say that Ukraine can significantly reduce the environmental impact of its agricultural sector by developing biogas production. How significant is our potential in this area?
Ukraine has many raw materials that could be used for biogas production. Majority of by-products and waste from agriculture – crop and livestock – could be used for biogas and bioenergy production.
For the sake of understanding, I will use the example of Astarta and European countries. We currently have only one bioenergy facility, but we have studied operations of many such facilities worldwide. In Europe biogas plants run on different inputs. For example, some plants specialise exclusively in processing plant residue. It can be grain spoilt by mould or silage corn, which is easy to ferment. But the best results are achieved by plants that use a mix of crop and animal residue. This way, you can get a more stable technological process for biogas production. It also produces fertiliser immediately. Animal waste is often used as a fertiliser. If it is processed in the biogas production, its properties improve. In Europe, biogas plants can generate income in several areas: gas, electricity and fertiliser production.
Interestingly, in Europe, fertiliser production is sometimes even a higher priority, as it can significantly reduce methane emissions from livestock.
The only thing worth noting is that if we consider the economics of potential biogas projects, we need to pay attention to the cost of delivering such raw materials to biogas plants. Logistics will significantly affect the final price of the product. EU experience shows that the distance between the input sourcing area and the plant should be within 50 km.
Ukraine's potential will be easier to unlock if investors receive appropriate financial incentives through tariffs. But again, the government's priorities may differ during martial law.
– How does the Astarta bioenergy plant you mentioned work?
Not only the bioenergy complex itself is attractive, but also the unique cluster of assets that the company is part of. This cluster also includes an agricultural company and sugar and soybean processing plants. The biogas complex uses beet pulp, a by-product of sugar production, manure from dairy farms and waste from other production facilities as raw materials. But the sugar plant operates only 2-3 months a year when it is in season. Having an asset that produces gas only one-quarter of the year would be impractical. Therefore, the complex supplies the sugar plant during the sugar beet processing season. In the rest of the year, the plant meets the needs of the soybean processing plant.
– What are the prospects?
The operation of the biogas complex is very beneficial for Astarta. We save natural gas consumption and have a corresponding financial result. We are trying to use other raw materials to increase the plant's capacity utilisation.
The capacity of the complex is 60 million cubic metres of biogas per year. These biogas production volumes are enough to meet the needs of the soybean processing plant and part of the needs of the sugar plant during the processing season.
We are looking towards further transformation of gas into electricity. It is the way we see biogas plants in Europe going. There, depending on the electricity tariff at different times of the day, gas can be used to generate electricity or directly. We are interested in selling gas and electricity if the regulatory environment in Ukraine follows the European path.
The source: Ekonomichna Pravda