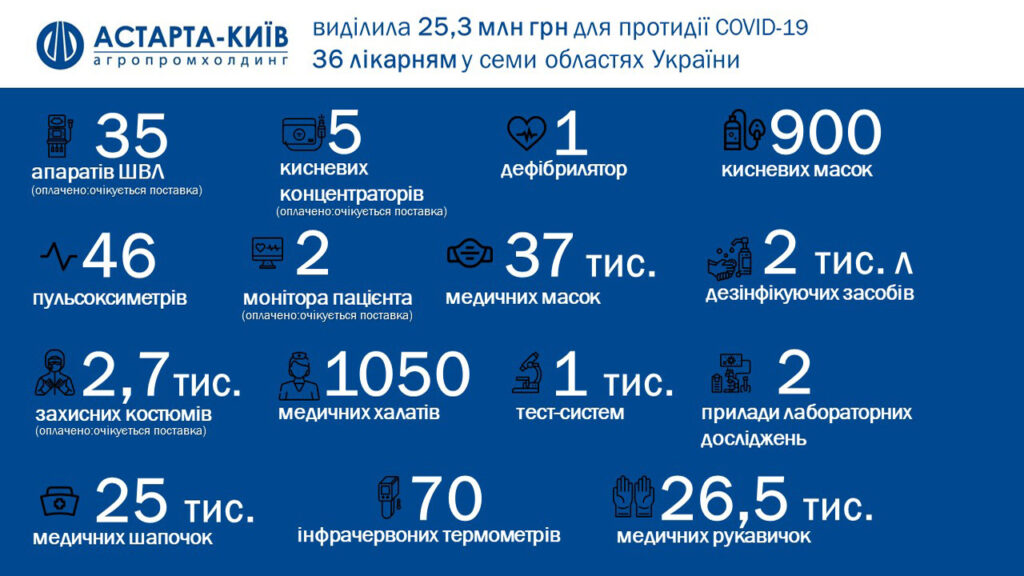 Agri-industrial holding ASTARTA keeps on supporting Ukraine in the fight against coronavirus. Since the beginning of the quarantine ASTARTA has allocated UAH25.3m to provide medical facilities in the regions of presence with the most necessary equipment, protection and sanitizers.
This fund was used to purchase and deliver 35 lung ventilators, 5 oxygen concentrators, 900 oxygen masks, 46 pulseoxymeters, 1 000 COVID testing systems, 2 patient monitors, 1 defibrillator, 70 non-contact Infrared thermometers, 37 000 medical face masks, 26 500 medical gloves, 25 000 caps, over 1 000 lab coats and 2 700 kits with protective suits, respirators and goggles.
The Company has also transferred the specific laboratory equipment, able to test coronavirus by polymerase chain reaction (PCR) method, from its Globyne soybean processing plant to Poltava central laboratory of Ministry of health of Ukraine. Besides, in a partnership with Ukrainian company Ukravit, specializing in crop protection produce, over 2 000 liters of disinfectants were distributed among hospitals in the rural area.
Every day new arrivals come on track to support 36 hospitals in 7 regions of Ukraine. ASTARTA is keeping a constant contact with the medical staff to monitor situation with coronavirus spread and respond to urgent needs. In addition, the Company joined to Kiev volunteer headquarters initiative and donated UAH 1m to provide doctors in Kyiv with personal protective equipment. We put maximum efforts to secure our workers, land lease partners and their families with all the appropriate medical care in case of need.