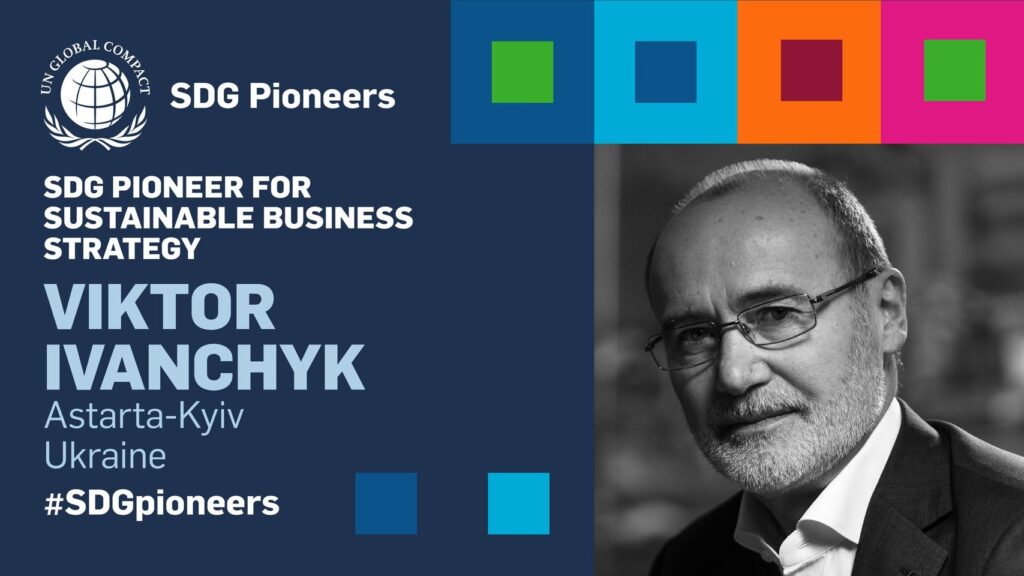 On June 2, during the UN Global Compact Leaders' Summit in New York, the SDG Pioneers international programme winners were announced. Each year the United Nations Global Compact celebrates business leaders who are doing an exceptional job in advancing the Global Goals through implementation of the Ten Principles on human rights, labour, environment and anti-corruption. This year Ukraine participated in this international competition for the first time.

Our country was represented globally by Mr. Viktor Ivanchyk, the founder and CEO of the agro-industrial holding Astarta. He won the national selection of the competition, run in two stages and gained an unanimous support of the expert jury. In the final stage of the competition, Mr. Viktor Ivanchyk was named a 2022 SDG Pioneer for Sustainable Business Strategy for his achievements in promoting the Sustainable Development Goals.

"It is my honour and responsibility to represent Ukraine in the international arena of the UN Global Compact. The war posed extremely difficult challenges for Ukraine and forced prioritisation of the Sustainable Development Goals, – says Viktor Ivanchyk. – That is why the Astarta's team is now focusing its efforts mainly on the social sphere: saving lives, protecting human rights and freedoms, overcoming hunger and poverty, promoting peace, justice and strong institutions."

Only representatives of companies participating in the UN Global Compact could participate in the SDG Pioneers competition. Astarta joined the Ukrainian Local Global Compact Network in 2008 and became one of the first companies in Ukraine whose activities are based on the principles of sustainable development.

Since the first day of russia's full-scale invasion, Astarta has provided humanitarian assistance to war-affected communities, evacuees and people with disabilities in need. The company actively cooperates with international humanitarian missions, including the UN World Food Program, delivering its humanitarian goods.

"The war continues, but Ukrainians already need to plan and prepare for the full-scale reconstruction of Ukraine. Sustainable development goals set out a clear vision of a sustainable future, making it possible to create a new era for responsible business and society, – said Viktor Ivanchyk. – I would like to emphasise the need to continue implementing sustainable development principles in Ukraine. They need to be strengthened and replicated. While restoring and developing agriculture and processing industries one should pay attention to environmental issues and the culture of caring for natural resources, – adds the head of Astarta. – At the same time, it is necessary to raise people's living standards – social and intellectual. We need to improve our legal system so that the rules are applied the same for everyone. Such measures will increase the number of conscious citizens to critical, and they will be the main driving force of positive qualitative transformations, first at the level of local communities, later in Ukraine and around the world.